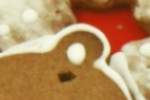 Bring the younger kids in for this fun class! On the menu: BUILDING THEIR VERY OWN GINGERBREAD HOUSE! This menu is sure to make even picky eaters smile, and care givers will be happy to help them build a fun gingerbread house!
This is a Lil' Kids class and requires an adult to register with their child/children. All ages are welcomed!

Reserve a spot today or give us a call at 205.933.9009.